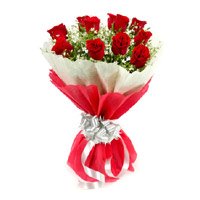 Flowers have always seen as an expression of love and appreciation. However, choosing the correct Valentine's Day Flowers that rightly conveys your feeling and your valentine's taste can get a little complicated. Different flowers have a distinct meaning. Take a look below to understand and know what diverse flowers and their shades symbolize.
Roses: Roses comes in different colors, and each of them has a meaning of its own. Red roses symbolize love and passion while yellow roses symbolize friendship and joy. Similarly, there are other colors like peach, orange, white, etc. each having different meanings.
Roses have a beautiful aroma and are mainly associated with love. With a vast variety of more than hundred, is a great choice that one can go through to look for their desired option that would define their valentine.
Carnations: Similar to roses, carnation too comes in a variety of shades hence with different meanings. Pink carnations symbolize gratitude while yellow carnations symbolize joy and so on. These ruffled blooms are very affordable. They stand for new love, and fascination.Hence, it is popular among new couples. Carnations last for a longer time.
But one should always refrain from buying striped carnations during Valentine's Day as it symbolizes refusal, and no one would want to convey this gesture to their valentine!
Orchids: Orchids are rare blossoms and are often chosen as an alternative to roses due to the sentimental meaning it conveys, which symbolizes beauty, luxury, and love. They have always been a fascinating option and can be held in a pot as well as in a bouquet.
Orchids are a tropical wonder with an exotic color combination and with over 25000 different kinds of orchids available; it is a great option to go for. Especially for someone who likes unique gifts or flowers, orchids are perfect as they stand out in the crowd.
Lillies: Lillies are an elegant blossom and are perfect for someone with a sophisticated taste. Lilies symbolize virtue and majesty. They are available in a variety of colors, white Lilly being the most popular of them all. It symbolizes long-lasting and pure relationship.
Yellow Lillies brightens the room and fills it with a wonderful fragrance. They are the best Valentine's Day flowers for someone who likes colorful flowers that fills the room with its sweet smell and warmth.
Tulips: Tulips are simple and yet a beautiful flower that can be exchanged during valentine's day. Similar to other flowers, tulips too come in various colors and hence different meaning with each shade. Pink tulips symbolize care and affection.Red tulips symbolize love. They are easily available and are very budget friendly. Moreover, they continue to grow and flourish in water.They are very long lasting. These are the best flowers to gift someone who has a subtle and traditional taste.
Considering the preferences of your valentine and the message that you want to convey is very important. This little effort of yours will help you to choose the perfect Valentine's Day flowers in Faridabad that your Valentine would love and cherish for a long time.
Several online flower delivery options are available in Faridabad. You need to look for best online florist and order to send flowers to Faridabad to convey your best Valentine's Day wishes. The online florists guarantee the delivery on Valentine's Day in Faridabad.